3.0.0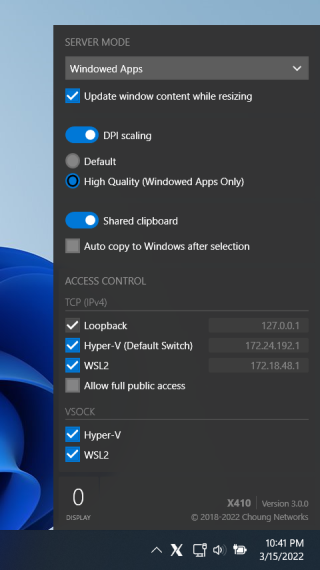 All new Settings window!

X410 now has a modern popup window for its settings. It should give you easier access to all the options available for X410; you can even just mouse click to enable options that were only available through command-line switches (ex. Hyper-V VSOCK support).

VSOCK is now supported for WSL2.

If you're having problems while using TCP for connections between WSL2 and Windows host (ex. X410 connections are severed or hanged after your computer is coming back from Windows sleep mode), you should definitely try using the new VSOCK connection method.

VSOCK is only for connections between virtual machines and their host, or among virtual machines. Hence you should get much stable experience that doesn't affected by the TCP/IP network changes in Windows. You also don't need to worry about firewall settings as other external computers cannot connect to your Windows via VSOCK.

However, please note that although WSL2 seems to be using VSOCK for its internal communication with Windows host, Microsoft has never officially released any documentation or API's for third-party developers like us to utilize the VSOCK. Hence, the new VSOCK feature for WSL2 in X410 may not work in future iterations of WSL2, but we'll surely do our best to keep it compatible with all future versions of WSL2.

You can now control available connection methods for X-Window GUI apps from X410 Settings.

For TCP connections, you can now specifically only allow connections from Hyper-V virtual machines and/or WSL2 just by clicking options; you don't have to set up any firewall rule, yet you can instantly improve the security of your Windows as it automatically blocks connections from external computers.

Improved seamless experience of X-Window GUI apps running in Windowed Apps mode on Windows 10/11.

Standalone version is now available for X410.

Along with the existing Microsoft Store version of X410, we now offer a completely separate Standalone version. Both versions have the same core functions and features, but the Standalone version is not linked to a Microsoft account and also offers a site licensing option.
Share This Story, Choose Your Platform!